Many people wonder how they can become a mentalist and I don't have to be a mind-reader to know that you're one of them – you're here after all.
Whether you want to blow people's minds with uniquely stunning tricks or need a professional and personal edge when it comes to reading and dealing with people, you've got to learn mentalism.
If you're wondering what I mean, it's simple. Mentalism has three crucial pillars that make up the art – misdirection/suggestion, sleight of hands and pure body language reading.
Mentalism is the art of ascertaining the truth about someone and many other details about that person's life, often to the extent that your audience will think you have supernatural powers.
Becoming a mentalist involves developing extraordinary interpreting and observational abilities which can only be achieved through studying and tons of practice.
Mentalism is real, useful and astonishingly powerful so let's take a look at the best ways you can learn it!
LEARN HOW TO MAKE A WISE AND EDUCATED JUDGMENT
One way of becoming a true mentalist is by learning to believe in your instincts and trust your decisions before you make conclusions or comments. You need to be in charge of the situation. That is why FBI agents are good detectives. They are observant and can interpret the slightest body variations and facial expressions.
Various evaluation techniques can be used on someone. For example, if you see a dark line on the ring finger, it means that the person may be divorced and so on. Master the theory and techniques first.
Practice them and then trust your instincts – your audience (be it one person or many) will be blown away by your performance but what you really did was use your expert observation skills to 'read their minds'.
You'll be able to read people like a book by looking at their expressions, reactions and general body language, knowing exactly how they truly feel and, for the lack of a better word, what they think.

CLICK ON ABOVE GRAPHIC FOR MORE INFORMATION
LEARN HOW TO RECOGNIZE PHYSICAL CUES
A mentalist's work entails being in a situation where you need to get information from a person without them opening their mouth. You can achieve this by identifying their physical signals – by reading their body language and facial microexpressions you'll know their true feelings, as they, unlike words, don't lie.
When you are tense, you can find words to calm things down, but your body may not agree with you. For instance, when a person is lying, they will exhibit some of these facial and physical cues:
Verbal disconnects
Hand-to-face movement
Grooming movements
High perspiration
Throat-clearing or swallowing
Pauses or delays
Hiding the eyes or mouth
WORK ON YOUR OBSERVATION SKILLS
Improving your observation skills improves your memory and also helps you to be keen on the fine details that other people will not see. Improving your observation is fairly easy, but it needs your commitment. Let me explain an excellent example of how to develop your observation skills right away.
As you walk down the street from school or work, look around and observe if you will notice things that you have not seen before. This must be a route that you use regularly.
Do this for some time, maybe over a week. You will become accustomed to it, and gradually it will be something you do subconsciously.
This is a great trick to take your observation skills from forced to effortless which is one of the biggest steps on how to be a mentalist.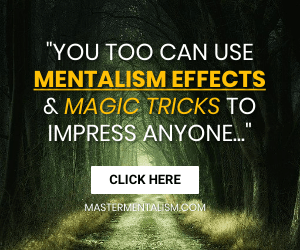 CLICK ON ABOVE GRAPHIC FOR MORE INFORMATION
PERFECT YOUR MIRRORING SKILLS
The art of mirroring is a self-explanatory action. This happens when two people sit down and face each other. When a mentalist wants to hypnotize someone, they will mirror with their 'target' for them to build a deep connection.
This will help the other person feel at ease while talking to you. Focus on mirroring their body language. For instance, touch your chin when they touch theirs and cross your legs if they do so as well.
Do the same for other things that they do, and you might be astonished that 9 out of 10 times, they will not realize that you are mirroring them.
This tactic involves other things apart from imitating their body language. For example, you can mirror their speech tone and breathing patterns, for extra effectiveness.
LEARN HOW TO LISTEN MORE
I would encourage you to be a good listener. To become an accomplished mentalist, you have to learn the art of listening, so that you can read between the lines. Some people tend to disclose more about themselves unintentionally.
So, a good mentalist listens until they get something that has been revealed to them secondarily. They achieve this by connecting parts of what they have heard.
This is why your audience will be surprised when you reveal secrets about them. What they will not realize is they subconsciously told you this information themselves.
If you dream of becoming a mentalist, be ready to listen to long stories, and you have to be keen to each word said. If you do not do this, you will miss out on crucial information that can reveal a bit of that person's life. Therefore, listening to long boring stories is a significant part of knowing how to become a mentalist.

CLICK ON ABOVE GRAPHIC FOR MORE INFORMATION
ALWAYS ASK LEADING QUESTIONS
These type of questions prompt your respondents to give you the answers you are looking for because of the nature of the questions. Leading questions will point your listeners to the desired direction.
Remember that a leading question can be asked using words but also by body language or the tone of your voice. However, leading questions can be desirable or undesirable, and it is crucial to know when and how to use them.
There are many materials online that can help you understand how to use these leading questions. Leading questions will make your respondents think that you have supernatural powers. This is because your clients will not realize that the questions are vague and that they are filling all the gaps for you.
BECOME A PROFESSIONAL MENTALIST
Now that we understand what a mentalist is, we can take a look at learning mentalism and how you can become an expert mentalist. It is one thing to learn a few tips that you can use to be a mentalist but to master the art of mentalism is an entirely different ball game.
If you truly want to know how to become a mentalist, you have to start practicing the many aspects of it in your daily routine as we have discussed. Be sure to click on one of the MASTER-MENTALISM links, whether you are a novice or a professional, you need to learn how to improve your skills.
If you dream of becoming a mentalist, there are many ways to get started. First of all, you can read books on mentalism. This is a very convenient method, especially if you like reading and digging deep into books and theory.
There are other ways that I've compiled for you in your journey to becoming a good mentalist, that are essential keys you need to practice on a daily basis, in order to learn properly.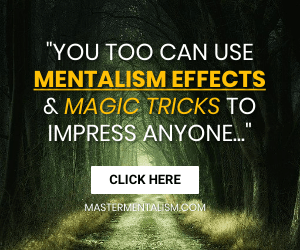 CLICK ON ABOVE GRAPHIC FOR MORE INFORMATION
Want to learn more about Mentalism – Intuitive Abilities Or Performance Art – then just click to find out.
EXPLORE SOME EXPANDED KNOWLEDGE OF THIS PHENOMENON :-
What Is A Mentalist – Blow Minds All Over The World
Mentalism Techniques – Psychology And Body Language Theory
Master Mentalism- Hypnosis, Telepathy, And Clairvoyance
Payseur Family History
Fritz Springmeier – Bloodlines of Illuminati
The Rothschild Dynasty
The Disney Story
The above four links open a new tab in Louis Payseur's site.
Well-Being & CBD Oil – Curated Presentation
Shopping & Clothing – Curated Presentation
Accessories – Curated Presentation

CLICK ON ABOVE GRAPHIC FOR MORE INFORMATION

CLICK ON ABOVE GRAPHIC FOR MORE INFORMATION
SOME OF THIS STUFF IS AFFILIATE RELATED, AND IF YOU BUY SOMETHING FROM THESE LINKS, I MAY EARN MONEY