Tons of people wonder how to do mentalism but before doing any sort of it at all, you first need to learn it. After you've got a grasp on the basic theory and techniques that make up the art, you've got to practice them an enormous amount of time to become a successful mentalist.
If you've got all of the knowledge and practice mentioned above and now want to know how to apply it, you've come to the right place as that's exactly what we'll be taking a look at today.
More so than other arts, mentalism is deeply dependent on its foundational techniques. Mentalism techniques either make or break a successful performer. Their number, complexity and effectiveness is a step above compared to other schools of 'magic'.
In order to master them you'll need to read quite a lot, learn new theories and concepts and most of all – practice them constantly. One special trait that sets them apart is that they're incredibly versatile and useful in all facets of life, not just for shows and performances.
They can absolutely revolutionize your personal and professional life by giving you a stunning edge in any interaction. You'll understand why, as we go deeper into the essential mentalism techniques below.
ESSENTIAL MENTALISM TECHNIQUES
1 – Psychology
In order to 'read', influence or manipulate people, you've got to understand how they think, why they think and what they think. By reading up on basic psychology, you'll start to get few essential keys into people's minds and what goes on inside them.
You'll learn patterns, statistics and other knowledge that's absolutely unmissable if you want to delve into mentalism. A basic understanding of psychology, at the very minimum, is required in order for you to fully comprehend and know how to apply the other techniques.
2 – Body Language Reading
The most versatile and potent technique of all, reading someone like an open book quickly and effectively, is a trademark trait of an expert mentalist. It allows you to know what they're thinking, and gives you insight into what they're feeling, based on their non-verbal cues.
By learning how to read and analyse those tell-tale signs from microexpressions to unconscious body movement and other reactions, you'll be able to quickly determine if a person is lying.
It is extremely to be in control of any conversation and interaction. This one, maybe more than any other technique on the list, requires enormous practice in order to perform it successfully.

CLICK ON ABOVE GRAPHIC FOR MORE INFORMATION
MISDIRECTION, SUGGESTION, SLEIGHT OF HAND
3 – Misdirection & Suggestion
These two complementing techniques are a force to be reckoned with. Whilst misdirection gives you control over what the audience looks at and focuses on, suggestion comes in and forces any thought you want into their heads.
It can be a number, a letter, a color, a word or even a combination of all, giving you direct access to their minds. You can do this by saying specific things, asking specific questions or doing specific hand motions, all of which contribute to implanting something you want into your target's subconscious.
Just by this description alone, you can probably imagine how ridiculously powerful and effective this technique is. This is why a mentalist is capable of guessing your thoughts.
4 – Sleight of Hand
A more hands-on, practical version of the combo seen above, sleight of hand is one of the oldest techniques in the books, of any close-up magician or performer.
Essentially, it teaches you how to manipulate objects and other items in a way that the audience doesn't notice the change, allowing you to make things seemingly disappear and appear at will.
As you can probably imagine, when this technique is mastered it makes for pretty insane performances where a mentalist will 'make the impossible happen'.
IT DON'T MEAN A THING IF YOU AIN'T GOT THAT SWING
5 – Theatrics
Theatrics are what makes all the other techniques look smooth, genuine and truly mesmerizing. It encompasses your acting skills, your charisma and your performance.
Not only do you have to give everything you do a personal, unique twist if you want to be successful, but you also have to make it work. You need to make everything you do is believable, and ensure that your movements are smooth, your tricks subtle and your impact unforgettable.
While you can read some great tips and guides on how to perform well, it all comes down to confidence. Confidence can only be achieved by believing in yourself and by being sure of your own skills and abilities.
This is something that can only be obtained by practicing, practicing again and then practicing even more. It's an odd thing, but the more you practice, the luckier you get!
As you've certainly noticed by now, mentalism techniques are a bit more in quantity and complexity than most other schools of magic. Even then, it's absolutely worth learning and the rewards far outweigh the amount of hard work you need to put in.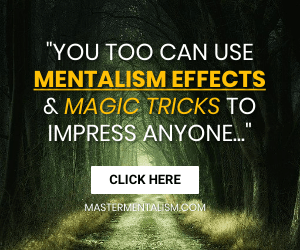 CLICK ON ABOVE GRAPHIC FOR MORE INFORMATION
MAIN KEYS TO MASTERING MENTALISM
No matter where and how you'll perform – personally or professionally – these are the main keys you've got to master.
1 – Relax and Exude Confidence
In order for a Mentalism feat or trick to succeed, you've got to be in a calm and relaxed state of mind. You've got to focus on what's important – for example, reading your audience's body language – while still talking and acting smoothly.
With or without theatrics, you also have to show the utmost confidence in what you say and do as this will make it all the more believable and interesting for the audience. If you're at ease, your 'target' will be too, making your mentalism performance have a much more potent effect.
While this can be a hard switch to simply turn on at will, it'll come naturally to you with enough practice as you'll build your own self-confidence, in not only yourself but on your tricks and abilities.
2 – Know Your Audience
Is it a single person or a big audience? Are they familiar with the art of mentalism or completely new to it? Do you want to stun them with a trick or do you want to know their true feelings and/or influence their thoughts?
These are all great questions you should ask yourself before doing a mentalism act.
Once you've got a general idea of what your audience is like, adapt to it and move ahead with full confidence.
CHARM, ENTICE, PERFORM
3 – Charm and Entice
An extremely important part of any mentalist's arsenal is their unique personality. If you're generic and bland, people won't remember you after the fact and even worse, they won't give you any attention or respect to begin with.
No matter what your personal traits are, be sure to fully display them and incorporate them in your act.
Be charming, mysterious and anything else that you truly are (funny or serious, for example, both work as long as you stay true to yourself). Make your audience wonder, make them interested and make them remember you.
4 – Perform
As simple as it seems, after the steps above it's time to perform. Be it a fun, jaw-dropping mentalism trick or routine for an audience or a body-language reading in a personal or professional setting, it's crucial to be sure of yourself and always remember to enjoy what you do.

CLICK ON ABOVE GRAPHIC FOR MORE INFORMATION
LEARN FROM PERFORMANCE
5 – Learn from the Experience
After you've finished your performance, no matter how big or small it was, always take a moment to reflect and learn from it. What went right? Did anything go wrong? Can you improve? How did the audience react?
Replay the performance in your head, ask yourself these questions and write down a personal development plan. After it's done, put it into practice.
Maybe you need more training on that one trick or maybe your sleight of hand needs some work. Maybe you can't quite remember which micro-expressions to look for or maybe your suggestion/misdirection isn't working properly.
No matter what it is, write it down and strive to improve it. Always try to be better. That's the key to success.
SUCCESSFUL MENTALIST
Follow these steps on how to do mentalism and you'll be on the right track to becoming a successful mentalist yourself. As always, I have to stress that the most important part truly is to practice.
Without it, you'll never be able to apply the other steps and techniques so get out there, roll up your sleeves, and get to work!
If you truly want to know how to become a mentalist, you have to start practicing the many aspects of it in your daily routine as we have discussed. Be sure to click on one of the MASTER-MENTALISM links, whether you are a novice or a professional, you need to learn how to improve your skills.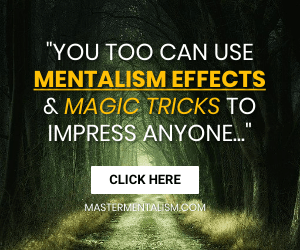 CLICK ON ABOVE GRAPHIC FOR MORE INFORMATION
Want to learn more about Mentalism – Intuitive Abilities Or Performance Art – then just click to find out.
EXPLORE SOME EXPANDED KNOWLEDGE OF THIS PHENOMENON :-
What Is A Mentalist – Blow Minds All Over The World
Master Mentalism- Hypnosis, Telepathy, And Clairvoyance
Become A Mentalist – Developing Observational Abilities
Payseur Family History
Fritz Springmeier – Bloodlines of Illuminati
The Rothschild Dynasty
The Disney Story
The above four links open a new tab in Louis Payseur's site.
Well-Being & CBD Oil – Curated Presentation
Shopping & Clothing – Curated Presentation
Accessories – Curated Presentation

CLICK ON ABOVE GRAPHIC FOR MORE INFORMATION

CLICK ON ABOVE GRAPHIC FOR MORE INFORMATION
SOME OF THIS STUFF IS AFFILIATE RELATED, AND IF YOU BUY SOMETHING FROM THESE LINKS, I MAY EARN MONEY