Combining psychology with close-up mastery and expert body language reading, mentalists blow minds all over the world. By dominating these skills, they can appear to have supernatural powers and perform awe-inspiring feats of magic such as mind-reading, hypnosis and illusion.
If you're wondering to yourself "What is a mentalist?" then you've come to the right place – we're going to take an in-depth look at that question today!
You've probably already seen a few tricks in action that stunned you and made you doubt they were real, which is exactly the sign of a successful mentalism.
Becoming a better close up magician and then moving onto mentalism tricks like mind reading can be very beneficial. On paper, most card tricks and mentalism tricks in general are very easy.
Your goal is simply to misdirect your audience and make them think they understand what is going on but sheer practice is what determines your success.
I will re-iterate over and over that mentalism is 90% performance based and it is all in how you present what you are doing. If you have confidence in what you are saying then the people watching you are more apt to believe you.
WHAT DOES A MENTALIST DO
Mentalists can either practice their art in the performance world – giving shows, performing tricks and entertaining audiences – or in the personal and professional world – using their mastery of the craft to read and influence people around them.
An example of a performing mentalist would be the popular ones you've certainly already heard about, such as Derren Brown, Max Maven, Kreskin and most recently Colin Cloud.
On the other hand, mentalists that use their skills in their personal and professional lives will always try to remain unknown, as they don't want you to know what they're doing. It gives them an edge in any interaction.
You can often encounter them, even if you don't realize it, in anything that deals with law, detective work, chief executive positions and more.

CLICK ON ABOVE GRAPHIC FOR MORE INFORMATION
HOW DO MENTALISTS DO IT
If you're wondering how mentalists do their performances and tricks, it all comes down to five essential pillars of knowledge, as mentioned in the mentalism techniques article, these are:
As we'll explore more below, these key skills, abilities and schools of knowledge are what allows a mentalism to perform the arts successfully. Not only is reading people quickly and effectively necessary, but you also have to know how to force a thought into their heads.
Also how to misdirect their attention for your own gain, how to use sleight of hand, to subtly make changes to the environment or items and of course, theatrics to tie it all together into a smooth, flawless and convincing performance.
On top of all of this, you also need to be confident and relaxed, traits that come naturally with time and practice.
CAN MENTALISTS REALLY READ MINDS
Now, let's take a closer look at another popular question that you're probably asking yourself right now: How do mentalists do their tricks?
Although mind reading is the part that stuns the most people – with good reason – it's not truly an impossible feat of magic. What it is though, is an expert knowledge on the theory behind it and countless hours of practice.
It all boils down to one essential thing – non-verbal communication. By reading your facial cues, microexpressions, body language and other reactions that you can't control, a mentalist will be able to know how you really feel and for example, if you're lying.
Doing this effortlessly and effectively takes an enormous amount of training and that's why it's not easy to be a mentalist. Not only do you have to learn the theory but you've got to put it into practice again and again, until it becomes a natural skill to read people.
There's also another essential part to mind-reading that's extremely interesting and effective. Instead of reading and guessing what you're thinking, a mentalist will severely influence your thoughts and force a word, image, number or thought to pop into your head.
They do this by either asking specific questions, saying specific things or by doing subtle hand motions to heavily influence you. By combining these two skills, they're able to 'read' your mind and floor you with their performance.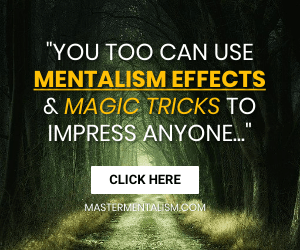 CLICK ON ABOVE GRAPHIC FOR MORE INFORMATION
HOW DO MENTALISTS GUESS NAMES
There are a few ways for mentalists to guess names but they all have a basis on the previously mentioned "reading". A good mentalist will do it in such a theatrical and subtle way that you won't realize it.
But they're just asking you a few questions or prompting up letters and other similar things to funnel down their options in an increasing manner, getting closer and closer to your name as they go.
They don't do this in an obvious manner, of course, but they'll say something like "I'm feeling it's an easily shouted name (they nod), quite short (they smile) and easy to pronounce (eyes open in surprise)".
Notice that the 'target' will give away non-verbal cues (like the ones I exemplified) that tell the mentalist if he's right or wrong without ever compromising his trick, as he doesn't have to ask direct questions that could ruin his performance.
In a short amount of time, the mentalist will close in further and further on the name, finally saying that it starts with a letter (for example) and then proceeding to guess it correctly.
It takes a lot of practice not only in body language reading, but also a mastery in the art of the performance and theatrics to ensure that it looks perfectly smooth and magical.
MENTALIST TRAINING
As cliche as it sounds, there's no secret to this part – just practice, practice and practice some more. Your hand movements need to be smooth and flawless, your body language reading skills need to be effortless and accurate, your performance and acting skills need to be subtle and effective and last but not least, you need to be confident.
Although being confident isn't a switch you can turn on, it'll come naturally to you as you get better and better with training, so just don't give up and keep giving your best every time. These are a few tips to accelerate your training:
Pick a few great tricks that you enjoy, give them your own personal twist and start performing them for yourself in front of the mirror and for your friends and family.
Watch how the pros do it and mimic their best traits such as subtle movements, clever misdirections and charming interactions with the audience.
Apply your people reading skills to your everyday life – carefully read everyone that you interact with from your family to a cashier and everyone else you encounter. Take notice of their expressions, feelings and how they react. Try to uncover when someone's lying.
Easy to learn but hard to master, mentalism is one of the very best schools of 'magic' and psychology that you can take on. Its beauty comes from the fact that you don't actually 'fool' people but use real information instead to achieve what is perceived by the audience to be a nearly supernatural ability of mind-reading, among others.

CLICK ON ABOVE GRAPHIC FOR MORE INFORMATION
FIGURE OUT PEOPLE
Every mentalist will have their own unique ways of going about this. They'll put their own spin on the questions and interactions and come up with creative and clever ways to narrow down on the names to finally get the correct one. It's an astonishing trick to watch, and a joy to perform.
Simply put, a Mentalist is someone who performs acts of mentalism either on shows or in daily life with the intent to either amaze or figure out people. By using the multiple sources of knowledge that make up the art, they're able to accurately 'read' people, force thoughts into their heads and manipulate the environment around them, without getting caught, giving them a seemingly super-natural set of abilities.
In the performance sector they can blow your mind and leave you in awe while in the personal and professional one they can know your true intentions, and figure out if you're lying or not, giving them a massive edge in any interaction.
Now that you know what a Mentalist is and how much of an edge it gives you in life, I bet you want to learn how to become a mentalist yourself. You're in luck as I've already got an excellent guide about it!
If you want an even more in-depth, step by step guide to take you from rookie to expert then be sure to click on one of the MASTER-MENTALISM links.
MENTALISM TRICKS
From stunning your audience to a quick trick for a friend, mentalism tricks are the essential pillars of any aspiring or professional mentalist. There are quite a few types of mentalism tricks, all with different uses and purposes, and the main categories are telepathy, hypnosis, mind control, clairvoyance, and precognition.
As we know, you can't actually use telepathy and get into someone's head and communicate like Charles Xavier from X-Men but you can make anyone believe that you did – that's the secret.
As a mentalist, you will use mentalism tricks that allow you to hypothetically get into the minds of the observers and blow them away with how scarily accurate you're able to perform. In the case of telepathy and hypnosis for example, you'd use the power of suggestion and basic observational skills to make judgement on a person.
Hypnosis is extremely popular, effective and actually enjoyed by both the performer and the audience which makes the participant completely cooperative when being hypnotized.
Always remember that the key is confidence. Without the audience or participant believing in you, you won't get anywhere. By exuding confidence and a strong, charismatic stage performance you can make the audience and participants believe that you have supernatural powers – the ultimate goal.
Any good mentalism trick will make the audience question everything they saw and even their beliefs. And there you have it, a full in-depth look at what a mentalist is. I hope I've been able to clear your doubts and awakened an interest in you, for this popular magical art.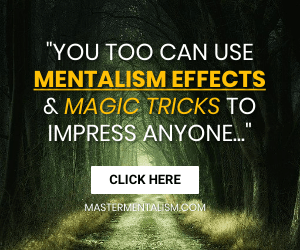 CLICK ON ABOVE GRAPHIC FOR MORE INFORMATION
Want to learn more about Mentalism – Intuitive Abilities Or Performance Art – then just click to find out.
EXPLORE SOME EXPANDED KNOWLEDGE OF THIS PHENOMENON :-
Mentalism Techniques – Psychology And Body Language Theory
Master Mentalism- Hypnosis, Telepathy, And Clairvoyance
Become A Mentalist – Developing Observational Abilities
Payseur Family History
Fritz Springmeier – Bloodlines of Illuminati
The Rothschild Dynasty
The Disney Story
The above four links open a new tab in Louis Payseur's site.
Well-Being & CBD Oil – Curated Presentation
Shopping & Clothing – Curated Presentation
Accessories – Curated Presentation

CLICK ON ABOVE GRAPHIC FOR MORE INFORMATION

CLICK ON ABOVE GRAPHIC FOR MORE INFORMATION
SOME OF THIS STUFF IS AFFILIATE RELATED, AND IF YOU BUY SOMETHING FROM THESE LINKS, I MAY EARN MONEY